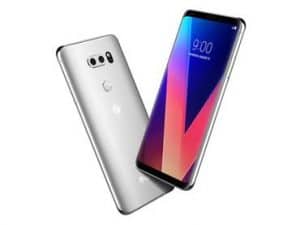 Carrying a latest gadget is not only the need of the hour but it also adds up to your personality. With a lot of options available for the smartphones in the market it becomes really difficult to choose the right product. Some offer you the best camera and some promise a long battery life. There are phones which offer you a lot of specifications but do not fit in your budget.
LG is not a new name for the gadget freaks. The company offers you latest smartphones with best specifications at economical prices. Grab the latest smartphone LG v30 which has all the necessary specifications that the smartphones of some top notch companies offer at high prices. You can easily book this gadget from different online stores like amazon and get discount of upto INR 2000 on paying via debit or credit cards, exchange offer of upto INR10,000/-, easy EMI payment starting from INR 2200/month, etc.
LGV30
This mobile fits in almost all the parameters of a smartphone from some of the top rated mobile companies in the World. It was launched in August 2017. It is sleek and finely designed. The best feature of this mobile is its display and face recognition scanner. This mobile is available in different colour variants: moroccon blue, cloud silver, Lavender violet and Aurora black.
Display:
The phone has a 6 inch full OLED display. The big display makes it look stylish and is thus easy to operate. The larger dislay size allows more text to be displayed and is convenient if you're browsing online.
Comparison:
The device is lighter and the big screen is a lot more attractive with an excellent touch quality and helps deliver better performance when compared with LG V20. The screen size of LG V20 is 5.7 inches whereas LG V30 comes with a display size of 6 inches.
Camera:
We all love to capture our special moments and save them with us forever. LG V30 offers you a 8 mega pixel front camera and 16 mega pixel rear camera which is going to let you click sharp and crisp pictures which you can cherish after years too. This generation is full of selfie addicts and we are always ready to be picture perfect but a bad camera spoils the fun. Now you don't need to wait for perfect daylight or time to click pictures. With this latest gadget clicking amazing pictures is going to become your favorite thing.
Comparison:
The camera quality and the quality of image that are clicked with this phone are far better than the pictures clicked from LG V20 model. The camera is able to click amazing pictures in low light as well as in extreme light. LG v20 has a rear camera of 12 mega pixel and front camera 5 mega pixel whereas LG V30 comes with a rear camera of 16 mega pixel and front camera of 8 mega pixel
Storage:
What is the fun of having a smartphone when you cannot play your favorite games in it or store important data? The mobiles start lagging once the storage space is about to be full. It becomes very frustrating when you have to erase data from your mobile to free up space. Storage problems are going to be history now as LGV30 gives you storage space of 3GB RAM and 64 GB ROM.
Comparison:
LG V30 consists of a big storage space and does not consist of pre installed apps that are useless and are only there to consume unnecessary space in your mobile whereas LGV20 also offers the same storage space but is loaded with extra in built apps that cannot be removed or uninstalled.
Battery:
LGV30 comes with a big battery of 3300 mAh which means that you do not have to carry a charger with you and look out for sockets every time you are running short of battery. Big battery is a blessing for people who love to talk on phone as it is going to give to longer on call time. Enjoy those gossips without low battery interruptions from this amazing device.
Comparison:
The gadget comes with a bigger battery and hence is not going to be a head ache for social media addicts as you can browse through your sites without the worries of battery getting discharged whereas LGV20 comes with a smaller battery of 3000 mAh and also faces overheating issues.
Reviews:
LG Smartphones has been ranked No.2 in the Mobile Handsets category in 'Brand Equity Most Trusted Brands' Survey 2017.LGv30 has grabbed positive reviews from its previous buyers who are seriously boosting the features of this phone and are recommending it as a must buy. The best part of the phone is that it offers you all the specifications that any smartphone from a flagship company would offer at a very pocket friendly price.
Gadgets NDTV has given this phone a green signal. It states that the phone has a good camera which delivers crisp photos. It has a long battery life and an easy to grip finish with a starry glass finish. The phone is waterproof and the glass coating is unbreakable.  LG V30 is a combination on OnePlus3 and Samsung galaxy S8.
According to CNET.com it is a phone that has it all, a great camera, speedy processor, huge OLED screen, excellent battery life, waterproofing, wireless charging, microSD storage and the best headphone jack on a phone. It says that the phone is a rock-solid alternative to Samsung's Galaxy S8 Plus and the Google Pixel 2 XL.
Pros of the smartphone:
The glass finish and the waterproof quality of this device makes it worth buying. It has a slim and sleek look that any flagship smartphone will offer you at higher price.
It has an amazing storage space of 64 GB and it can be expanded upto 256 GB by the user.
Wireless charging support is another feature that makes this device a must buy.
Cons of the smartphone:
The major issue with this device is that it does not have a removable battery which might be a problem for some if by chance the phone gets hanged.
The device only supports one sim and a micro SD card. If you are a single SIM user then its fine but if you use dual SIM's then it is going to be a problem for you.
Offer and availability:
Market price of this gadget is Rs 60000 but you can purchase it online from amazon store at an attractive discount of 25% which makes it available for only Rs 44990.
Additional offer:
Amazon offers you easy EMI options to make your purchase and a free shipping and delivery to your doorstep.
How to order this smarphone?
Follow these few very simple steps to place your order for this device online:
Go to your preferred website
Search for LG V30
You will see different colour variants of the phone
Select the one that you prefer the most
Select the phone and add it to your shopping cart
Enter your personal details like name, address ,number
Proceed with your payment option
Click on Buy now option
Place the order
You will receive your order at the earliest.
Conclusion:
In today's changing technology, it is very necessary to carry a gadget that keeps you updated with the on goings in the World. A correct smartphone will help you fulfill your needs, be it professional or academic. So why wait, be quick and grab a good phone or gift it to your loved one and make them happy.