Inew is a renowned mobile developer offering innovations in every option taking a mobile using experience to a whole new level. Inew smartphones are intelligent devices in the truest sense of this word as the gadgets seem to predict intentions and easily cooperate with users. The core philosophy of the company is to bring delight, comfort and pleasure on the tip of your finger. The company incorporates users experience to provide better services and gadgets for every user worldwide. The mobile developer offers the devices of the highest user credibility as each device features smooth performance and astounding power. As most Chinese mobile brands the iNew markets its gadgets in a cheap mobiles segment. What is there so special about iNew mobiles making such a buzz over the devices? Let us review the hottest and latest launches by iNew brand and find out their killer features.
Though being just a developing Chinese brand, the iNew smartphones are available globally through one of the most credible certified e-commerce agent offering famous Chinese brand smartphones at affordable pricing with free shipping worldwide. Full information about Chinese mobile phones also Inew smartphones like Inew i3000, Inew i4000 Inew i6000+, Inew i8000, Inew V3 you can find here.
One of the hottest and most wanted mobile device among cheap iNew phones is Inew i8000 being a 4-core processor (MTK 6582) device with every core speeding up to 1.3GHz.
The slim case of only 7.2mm will make your experience of handling a really big mobile set rather stunning. It feels solid and comfortable even in one hand navigation. The phone gets a 5.5' super quality LED IPS 960*540 display for true clear vision, however it is far from being excellent. But the developer promises than iNew i8000 will be experienced as a HD LED TV. The full lamination OGS technology provides extra clearness and good balance of the display. One of the most attractive features of the device is Swiss pro acoustic sound system for ultimate sounding of the device (HIFI-stereo made by DIRAC). The innovative system enables a customer to well optimize the sounding of the device according to the type and mode. Another feature to be focused on is 8MP back illuminated camera with 2.2F aperture. Super CMOS sensitive technology will let you enjoy the highest quality pics even at night. Astounding front camera of 8MP designed for the best video calls and amazing casual selfies.
Another remarkable cheap device from the brand is iNew V3 which is well reviewed at Flosmall online store.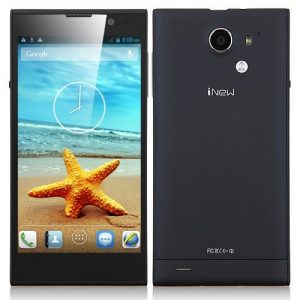 Among its core features a 4-core MTK6582 heart with every core tickling at frequency of 1.3GHz is of ultimate interest as the most trusted mobile reviewers globally have renowned and equaled the performance of some 8-core flagships. The 5' HD IPS mobile screen will introduce you into a new quality of mobile vision. One of the hottest features to focus your attention on is a new generation camera of 13MP featuring Sony chipset and F2.0 aperture will enable you to shoot the colors in their natural beauty. Shooting night scenes will be of ultimate interest with a new option realized in the camera software. Weak light environment will not be a challenge to take a high quality photo anymore. Sony Exmore RS sensitive elements, blue lens filtering and HDR function will turn an amateur into a pro photographer.
Inew i6000+ is a newly launched hottest solution by the cheap Chinese mobile brand.
The new devices is marketed in a segment of super powerful devices hiding under the hood a true processor of 8 cores MTK6592 with each core speeding up to 1.7GHz. Its stunning 6.5FHD Retina full lamination (OGS) display will enhance the colors and vibrancy of the imaging. Such a combination of hardware and technologies and innovations will add to your experience of super powerful mobile phone usage, ultrafast 3D gaming and data transfer. Processor architecture realized in the device features low power consumption, so the device will last long and steady even in the hard drive mode. 13MP camera supports 1080P video shooting meanwhile front camera reaches 8MP quality and supports HD 720P movie shooting.
All of the devices by the iNew brand are run with Android OS. The similarity to renowned iPhone will greatly impress you, but iNew gadgets have killing features outdoing the iPhones namely processor power, fair pricing and a variety of modifications of the smart phones!
Inew V3 video