Many work environments use Microsoft Office, but with new cloud technology being incorporated into companies around the world, other applications like Microsoft Exchange and Microsoft Lync may also be used on a regular basis. If you are an IT professional who will be administering Microsoft Office 365 and these technologies, it is a good idea to work toward earning the Microsoft Certified Technology Specialist certification.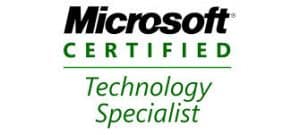 The MCTS certification will validate your skills supporting hybrid environments, managing users and service features, and administering Office 365, SharePoint Online, and Exchange and Lync Online. Among the skills you will need to know to earn this certification include provisioning, managing site collections, setting up mailboxes and contact groups, and managing the technologies in an Office 365 hybrid environment. Becoming comfortable with these concepts can be done through hands-on work, while an e-learning course and additional preparation tools and resources can be used to master these many concepts.
To earn this certification, participants will need to earn a passing score on the 70-323 exam (click here). Once earning it, participants can continue on the cloud applications pathway by working toward earning the Microsoft Certified Information Technology Professional (MCITP) certification, which builds on the concepts learned at the foundational level. While earning the MCTS certification can give you a solid overview of cloud administration, the MCITP certification can advance your knowledge and set you on a path to more complex work in the cloud.