The volatility of cryptocurrency values makes it challenging for traders to move quickly when a price is at its best.  Fortunately, advances in technology have made it possible to create automated bots that can trade on your behalf while you sleep or do other errands.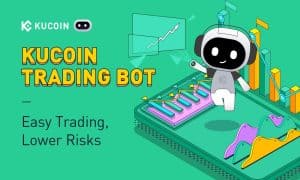 With each having a sizable advantage over the competition, cryptocurrency trading bots are excellent for passive revenue. Most cryptocurrency trading bots contain tools that help seasoned traders develop and improve their trading techniques.
Crypto trading bots are widely available nowadays, both for free and for a subscription. Making a decision among these services can be challenging for a crypto trader. This guide explores the best crypto grid trading bot for 2023.
Crypto Grid Trading Bots at Quick Glance
A crypto grid trading bot is created to carry out a well-liked trading method in the cryptocurrency markets. Grid trading is a technique that entails placing numerous buy and sell orders at predetermined intervals above and below a predetermined reference price, or the grid level.
The grid trading bot is set up to place sell orders above a given price level and purchase orders below that level in order to profit from price changes within a certain range. As market factors like liquidity and volatility vary, the bot automatically modifies its target market.
Promising Crypto Grid Trading Bots
This is a list of the finest cryptocurrency trading bots to assist you in navigating the enormous array of alternatives accessible.
KuCoin Trading Bot
KuCoin has made a name for itself as a safe, easy-to-use crypto exchange. It also offers advanced automated trading strategies and a huge list of sophisticated trading pairings–including BTC/BNB, BLUR/USDT, and ETH/SOL.
KuCoin offers a handful of built-in trading bots, including Grid bots for both spot and futures markets. These trading bots are free to use. Since KuCoin is an exchange, these bots will be significantly more effective at carrying out trades than any third-party bots linking your cryptocurrency exchange using API credentials.
Pionex
With trading bots included, Pionex is a well-known cryptocurrency exchange. All Pionex users have free access to 12 different trading bots, though you can purchase additional bots if you want them. You only have to pay when your trades "create" liquidity, according to the exchange's maker/taker fee schedule, which is set at 0.05%.
Pionex's rebalancing bot helps Hodlers stay in the game. Pionex facilitates manual trading while meeting pre-established market conditions by completing crypto-to-crypto conversions. The Pionex Smart Trade Terminal enables traders to set up, grab profits, and halt losses all at once.
Cryptohopper
The trouble of managing multiple exchange accounts is eliminated by the cloud-based cryptocurrency trading bot known as Cryptohopper. Grid trading tactics may always be utilized to their full potential because server changes can be performed without affecting your trades. 
By doing repetitive activities while purchasing digital assets at various price points, Cryptohopper's dollar cost averaging (DCA) bots calculate the average buying price. You can profit from the application of experienced traders' techniques while learning the ins and outs of trading by copying their trades through mirror trading.
3Commas
One of the greatest options for new users is 3commas because it is simple to use and compatible with the majority of exchanges. You may use the bot to build strategies based on more than 20 indications, which means that with little work on your part, you can reduce losses while simultaneously increasing profits.
The 3Commas crypto trading bot is already integrated across a large number of exchanges and no installation is required. When a bargain is made, users will be notified through browser, email, or mobile app.
Bitsgap
This cryptocurrency bot enables users to easily manage their cryptocurrency holdings as well as assess and select the coin with the most potential out of more than 10,000 cryptocurrency pairs. It provides a single interface by which traders can trade on more than 25 major exchanges.
One of Bitsgap's crypto trading bots can be tried out for free in the demo mode. The bare minimum investment is computed based on the number of grid components you intend to use. Your base currency will be sold by the bot at the highest rate possible.
TradeSanta
A cloud-based trading bot called TradeSanta shortens the time it takes to execute deals. The ability to swiftly close all positions and transfer all of your assets into USDT or Bitcoin is another useful feature of it.
They offer a handy video tutorial on their website that will show you how their grid trading bot operates. While their spot and futures trading will enable you to profit from grid trading bots working hard around the clock for you, their long and short methods will assist you in taking advantage of bull and bear markets.
Closing Points
Traders who seek to benefit from market turbulence and capitalize on swift price changes in the cryptocurrency markets mostly use crypto grid trading bots. They can be set up to trade a variety of cryptocurrencies, and because they are frequently customizable, traders can establish their own settings and risk tolerance levels.
Each of the aforementioned bots has benefits and drawbacks, therefore there could not be a single bot that is ideal for every trader. A trading bot is not a guarantee of success, therefore use caution while making cryptocurrency investments.