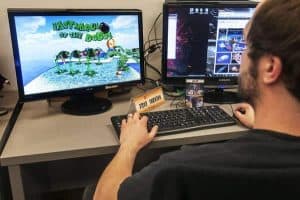 Humans are never satisfied, especially the gamers. They just get bang on a new game, and the next moment they keep on speculating about a still better stuff. However, a good game is always praised. This doesn't mean you just pick a good one and make replica of it, and sit quite. It's important to understand the basic characteristics. Let's have a look at the attributes those are always expected from a better game.
Make it simple and tricky:
One thing is pretty clear. It's a game after all. The only intention is to make fun. Hence, the very first quality of a good game is that it is always easy and nicely gettable by the gamer. Yes, you can make it tricky being creative. But, designing it in a baffling way simply makes the user tired.
Getting started quickly:
Game is the platform through which the user delivers all his excitement and passion. Hence, it's very important that you don't cool it down the whole thrill. Some games take so much time to get installed is that it feels like a scientist is waiting for any biological reaction. Getting initiated quickly is another very fundamental yet powerful characteristic of a better gaming pack.
Customized, make it personal
A successful and good game is something with which the player sticks on for a good while. The only way available for this is to make him/her busy with something or the others. Your customization panel should be rich with options like new looks for the character, record analysis options, etc. Let the player feel personal about his characters. For this there must be sections like hobby, hair style, cars, songs, and similar things.
High-end, blend Artificial Intelligence
To be successful with a contemporary game, having a nice story is not always enough. Artificial intelligence is being taken in to account a lot more these days. It's important to make the player feel like a movie. For example, you ride the horse, and the dusts blow. Or, you chase the enemy hard, your sweat drops fall on ground, upon any explosion the houses nearby also get affected; something like these feel it more natural.
Engage through Bonus, Prizes, etc
No matter it is your life or a game, humans naturally wants to be a winner. And, how do you know a winner? Of course, it is through rewards. Prizes are important to keep someone engaging with the game. It's not like you mention 'congratulation you own', or give them a certain amount in the end. Rather those like bonus points, more powerful vehicles, weapons, and girls as assistants make the player more interested or passionate about the game. Blend concept so that the certain prize gives clue to the player in a baffling situation.
User and system friendly
Compatibility is another very crucial part about the success of a game. It should not be too specific about the system requirements. Undoubtedly, rich set-up indicates high-end game, but it should not be too demanding so that feels like being selfish. Apart from this, factors like good graphics, sound quality are always important in making a game adorable.
Make it social:
It is said that sharing is caring. A job can be better done when you associate more people with it. Similar concept is well applied in this case as well. A good game is the one that employ other players in it as well. Not necessarily it has to be a multiplayer, but activities like updating scores over the social Medias, at its community make someone more interested about it. Making interactive is something that matters. The game should come up with clues, encourage player in between to boost their spirit about it. The game must have facility so that the gamers can enjoy, discuss, or get connected easily.
This is the guest post by Christopher Austin and Makeover Games 365!