There's no headache worse than a financial headache. But, so long as you learn to use it properly and effectively, technology can be here to save the day. For as much bad press as the mobile revolution gets for keeping people distracted from reality, it can be an extremely effective tool when it comes to practical matters like organizing your finances.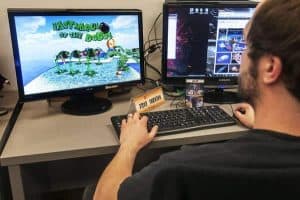 Some examples of positive financial opportunities via your tech will come from things like learning how to use search engines effectively, having an interest rate calculator bookmarked, learning to set up autopay functions, getting digital notifications for all of your money stuff, and using digital cash effectively and intelligently.
Use Those Search Engines 
Want to get your financial learn on? Want to learn about accounting? Or bankruptcy? Want to find out about government approved debt consolidation? You're a simple click away. Learning to use search engines with the latest browsers and search schemes is almost a necessary skill to have these days, and especially when it comes to an important topic like money, you want to make sure you're at the top of your game when it comes to working with Google instead of against it.
Have Interest Rate Calculators Bookmarked 
There are lots of aspects of modern life that deal with interest rates. Loans, credit cards, mortgages, the Fed, payment plans – they all have to deal specifically with numbers that are compounded from other numbers accrued from other numbers and then spit out by companies that want your money! So to prevent the headaches associated with long-term interest rate burnout, find an interest rate calculator and learn to work the numbers philosophically in order to find out your own personal best balance of repayment scheduling.
Set Up Autopay 
How many headaches have you gotten because you forgot to pay certain bills on time? Late fees are awful and unnecessary, and that's why you should set up every single bill you can to an autopay method. Banks will have them. Credit cards will have them. Loan companies will have them. At that point, the only thing you have to be responsible for is keeping enough money in your primary account!
Get Digital Notifications for All Things Financial 
Digital notifications are an awesome aspect of modern mobile tech, especially when it comes to financial matters. Check clears? Notification. Fraud potentially detected? Notification. Bill upcoming? Notification. Set up these notifications, and you'll never miss a financial beat.
Using Digital Money Intelligently 
And finally, the latest tech allows almost unfettered access to digital money from companies like Apple or Google. Set up your accounts and your wallets, and then set up apps on your phone or register through a place like PayPal, and you won't ever run into situations where you have no options to pay for things digitally.