It is time to indulge in a favorite tech-time activity, but there is no money in the account.  Whether a person enjoys building gadgets or gaming from dusk til dawn, technology-centered activities cost money.
The best way to battle against lack of gaming and gadget funds is to find creative ways to generate extra income.  Conveniently, technology presents us with plenty of opportunities to pay for its use.  Check out this brief overview of a few crafty ways to fund the fun of technology.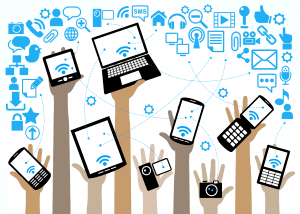 Apply for a low-interest credit card
Credit cards are not always the best choice, but when they are handled with care, credit cards can be extremely beneficial.  Use the card to make one or two mid-sized purchases each month towards a tech hobby, and pay off the balance at the end of the month.
Just be sure to pay the balance each month, so no interest addictions accrue.  Using a credit card in this manner will not only fund the fun, but it will build the cardholder's credit rating.
Become an Uber or Lyft driver
Everyone knows what Uber and Lyft is for, but just in case, the two services are similar in purpose.  Users download the app on their mobile device, link a credit card, and click for a ride.
Uber and Lyft drivers get the signal and provide a lift for a much cheaper rate than a conventional taxi cab service.  Uber and Lyft cars are also much cooler than a standard yellow cab.
It is rather simple to become a driver for either service.  Simply fill out their standard application, have valid insurance and driver's license, and a decent car.  As soon as the company approves the account, start making money.
Get paid to take surveys
There are a plethora of websites available that will pay users to take random surveys.  Swagbucks is a perfect example of such a site.  Users click through surveys and get paid per completion.  It is a simple way to generate a little extra scratch.
Test apps or games for quality
For gamers, this method may be the best and most entertaining.  Try working with a company that pays users to test out mobile apps or games for quality and bugs.
Game designers need real people to play their games in order to gain a new perspective on the design.  Testers give them a chance to fix the sketchy areas of the format before the game officially releases.
Sell stuff online through popular platforms
 Another quick way to make some entertainment money is to sell stuff.  Sell old games, crafts, or whatever random piece of useful stuff around the house.  Host sites like Craigslist, Etsy, and eBay are great for offering a safe and secured way to buy, sell, and trade over the internet.