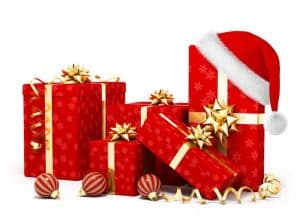 Fed up with giving the tech-head in your life the usual 'smellies', aftershave, lacy underwear or socks? How about appealing to their inner geek with the year's biggest trend – wearable tech? This Christmas the stocking could also double up as a mobile phone charger, and that cracker could be full of presents that are actually useful (although the joke and paper hat will still probably be terrible).
Wearable tech manufacturers are estimating that we'll spend a massive £100million on wearables this Christmas. So if you're planning on making it a very techy Christmas, here are the top five wearable gadgets that will make anyone's Christmas morning one to remember.
#1 Google Glass – It's still being developed and expect to see some rivals popping up next year, but Google Glass is still way ahead of the competition for sheer wow appeal. Enhancing someone's world with some augmented reality extras will cost you, though, and it's probably not going to be in the price range of most people. But Google Glass still represents the cutting edge of wearables, and is definitely a look (if you'll pardon the pun) into the future.
#2 – Sports bands
If the recipient of your wearable gift is a health fanatic then the obvious choice for a bit of fabulous wearable tech is the sports band. Ranging from the top end Nike Fuel bands through to more affordable FitBit bands, sports tech specialists Garmin and the user-friendly and distinctly quirky Jawbone, there's plenty of choice not just on features but on price too. These are not only wearable tech, they interact with your smartphone, tablet or laptop too so they're very user-friendly. Moreover, you can find an exciting range of different Fitbit bands on Mobile Mob and other digital accessory websites.
#3 – smartwatches
The first smartwatches were less than stellar successes, but the second generation of Pebbles and Galaxy Gear watches are a distinct improvement on the clunky 1st generation attempts. They're more stylish, elegant and feature-rich, as well as ranging in price from decidedly affordable (the Pebble comes in at around £100) through to 'luxurious'!
#4 – Interactive Tee-shirts
More of a gimmick than a gadget, interactive tech tees are still a popular novelty gift this festive season, and are proving to be a hit at Christmas parties. Look out too, for more practical designs such as hoodies that incorporate ear buds into the hood so that you're wired for sound and warm when you're out on that Boxing Day fun run.
#5 – USB Jewellery
For a really quirky present, why not go for a bit of USB jewellery? From Swarovski Crystal necklaces through to cufflinks, now we can quite literally plug and play our jewellery, clothes or other wearables.
All of this high-tech gadgetry shows just how important wearables are going to be in the future, a future that's been forecasted by development specialists such as Plastic Logic, who have spent the last few years creating flexible screen technology that could easily be incorporated into clothing in the future. In fact, this is already a reality for military and medical uses, and it's only a matter of time before our range of 'wearables' expands considerably.
"Flexible electronics is a reality, already proven through the development and manufacture of plastic, bendable displays and sensors," says Plastic Logic's CEO Indro Mukerjee recently. "For the first time a fully organic, plastic, flexible AMOLED demonstration has been achieved with a real industrial fabrication process. This marks the start of a revolution in wearable products, the next frontier in consumer electronics – 2014 will be the year that wearable technology starts to go mainstream."