The world has become a very selfish place these days. There are now over 7 billion bodies fighting for food, shelter, and money. Granted, there are those who remember their manners and are a great help to society, but the majority of people have the "not my circus, not my monkeys" mentality.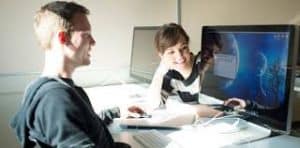 Especially when it comes to helping their neighbor. Some are just so wrapped up in their own circus, they forget there are another 6.9 billion people in the world. In a world where this has become the unfortunate reality, technology has been forced to advance to a point where self sufficiency is more possible than ever. Need help? Tech's got that.
A Trip To The Doctor
How many of us have insurance? For real? A simple trip to the doctor has become harder than personally building your own house. Many of us will naturally suffer through a cold or a simple stomach virus, but what happens when it becomes more and you simply can't afford to go?
Thanks to the technology, you can enter your symptoms online and get a diagnosis fast. There are also several online clinics and sites with countless paragraphs of information on anything in the medical field you want or need to know about.
Along with the advances on the internet, technology has also brought the robotic nurse to life. With a growing shortage of registered nurses, the robotic nurse is beginning to fill the void in hospitals and homes.
Legal Advice
Working within the justice system is not something that the majority of us look forward to on a regular basis. With that said, sometimes it's inevitable. That divorce we never saw coming, the injury at work, or the fight for custody of the kids can be a surprise that we are left not really knowing how to handle.
Until now. There are countless legal services now available online. There is no longer a need to search the yellow pages or physically visit law firm after law firm. You can usually get all the information you need at the literal push of a button.
If there is information that is not listed, by chance, or you have an unusual question, there are always posted phone numbers. Many sites offer an online chat resource, as well.
Online Shopping
Have you ever woke up and knew the grocery shopping needed to be done, but just didn't feel up to walking up and down each individual isle? Are you physically handicapped in a way that prohibits you from driving or shopping for the things you need and want? Tech's got that. Now, you can shop online.
Almost anything you could ever have need or want of is available for purchase online. From cars and computers to groceries and the latest fashions, technology has made it easy to shop without ever having to leave the comfort of your living room or ask for help from friends, family, or neighbors.
The tech of the 21st century is a great way to remove the need for outside help. Use it frequently and wisely, but never forget that technology can't love you.