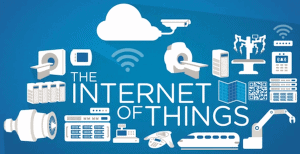 The so-called "Internet of Things" is the evolution of the internet in which everyday objects have network connectivity and can communicate with each other and send and receive data. According to Wired, the idea is that the internet will allow people to control every aspect of their lives remotely, from turning up the heat and flipping on the lights before they return home to checking the water filter in the fridge and brewing the morning cup of coffee. The Internet of Things is changing the way technology and home appliances interact, allowing devices to sense potential problems and solve them without even requiring human attention. With large tech companies venturing into other sectors, like Google and Apple investing in Nest and HomeKit, respectively, traditional HVAC companies may have to change their strategies to compete. But how?
 The Impact on HVAC
With the growing interconnectedness of technology, simply heating and cooling a home at the touch of a button isn't enough; it's time for HVAC businesses to reconsider their relationship to technology. Advancements in home automation have been putting increasing pressure on HVAC professionals to add high-tech products to their offerings in order to keep up with the trend of ultra-high energy efficiency and connected smart homes, according to Phys.org.
 Why Go High Tech?
Many people already know the advantages of programmable thermostats, which allow users to set up schedules for temperature changes in the home throughout the day. In fact, just by dialing the thermostat down between seven and 10 degrees during the day while everyone is out of the house can translate to a 10 percent savings on heating and cooling for the year, according to EnergySavers.gov. But now there's a new kid on the block that promises to be even better than programmable thermostats: the smart thermostat. Smart thermostats offer all the energy efficiency of a programmable unit, but with the added convenience of programming the thermostat remotely through Wi-Fi connections and smart phone apps.
Regular inspection and maintenance of an HVAC unit is integral to extending its lifespan and running it at optimal efficiency. In fact, Washington Energy says homeowners can lose up to five percent of efficiency annually without regular heating and cooling check-ups. Smart thermostats, and potentially smarter HVAC units themselves, could do the inspection part automatically, without requiring human attention until something needs to be replaced. By removing the human element, and thus eliminating procrastination, home automation could actually make the average homeowner far more efficient, saving them money and reducing energy consumption.
 Changing Perspective
The challenge for HVAC companies is to recognize this growing demand from their customer base and to capitalize on it. In many ways what is needed is more of a cultural shift than a technological one. That's because many HVAC companies are old school, often they have a long history of providing the same products and services with little variation, and little need for it. The challenge for these old-school companies will be to compete with increasingly intelligent technology—with the Internet of Things. This will involve closely following the buzz surrounding the devices already on the market, such as the Apple HomeKit, the Ecobee Smart Thermostat and the Nest. If these devices catch on, HVAC companies may need to adapt in order to survive.
 Meeting a Demand
While it can be confusing to differentiate between all the gadgets and gizmos at hand, the trend towards home automation is only gaining momentum. It's no secret that more and more homeowners are using their smart phones as universal remote controls—not just for their television and music players, but increasingly for the home's heating and cooling and even to control individual light switches. To dismiss home automation as excessive technology-stuffing would be to miss out on the next phase of technology altogether—which could translate to a loss of confidence in the business by consumers and a corresponding loss of sales. Ultimately, the Internet of Things could be an HVAC technician's best friend: the computer can alert the homeowner when there's a problem and even remind them when their HVAC unit is due for an inspection. When the professional arrives, he or she can simply view the unit's own records and self-assessment to determine what needs fixing. The Internet of Things may be the way of the future, and smart HVAC companies are already pivoting to keep up.