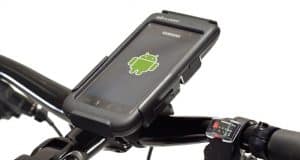 A handlebar mount is usually a very secure and sturdy product whose manufacturing standards are high because it is usually designed, engineered and even tested by experts.  This is especially important for those whose interest revolves around the use of a cycling computer.  Bike riders are now able to attach their smart phones to the bike's handlebar.
There is a variety of bike handlebar mounts
These various types of bike handlebar mounts include bike mounts and MTB Mounts.  They are usually designed in such a way that, the rider is able to fully connect with the bike.  Examples of these road bikes mounts are;
Bar Fly 4 Road Max is designed in such a way that you can mount up to three accessories at a go and can even allow for mounting of a wide variety of computers.
Bar Fly 4 Road (SLi) Light Bundle
Also designed to accommodate a wide range of computers, but includes light mounts.  You can also mount up to three accessories.
Bar Fly 4 Road Mini (2.0 SLi) GoPro Bundle
It is designed in such a way that you can mount both the computer and camera on the same mount. Also includes a GoPro mount.
Light & Motion Urban 800 FC w/ Road Max mount
It accommodates both computer and light on the same mount.  It provides you with the fastest mount known as the Wind Tunnel. "NEW RAPID RECHARGE TECHNOLOGY FOR THOSE THAT CAN'T WAIT FOR THE NEXT RIDE".
Some of the MTB mounts includes:
It's compatible with light, camera and computer.
It usually accommodates a wide range of devices all at once.
Together with GoPro attachments, you can come with camera angles that are unique.
Installation is easy and allows for dual purpose with your bottle that is, use as a water bottle or a tripod.
Conclusion
Handlebar mounts usually have a thick strap made of rubber that the biker uses to fasten them to the bars in such a way that it is strongly and securely attached, thus putting into consideration its longevity.   The mount is put into place in different positions since it can either be placed vertically or sideways, depending on how thick your bar is.
Also, the rubber casing placed on it, usually gives it a good grip preventing the mount from falling, especially when you are off the bike and gives it the right protection especially from scrapes and crashes.  The handlebar mount has also made provision for a rear opening for the camera and therefore one is able to capture the moments as necessary.
About the Author
As a renowned dealer and distributor, Raymond Hummel offers a range of products that are designed and tested to fully enhance the way you connect with and enjoy your bike. He has been in the market for the past 4 years offering high quality handlebar mounts.  He is also a major producer of other accessories and parts such as stem caps, spacers, fenders and soft goods. He, therefore, guarantees longevity and gives a warranty.  For further information, visit his website.