Online privacy and security is a sensitive issue and in the recent aftermath of Edward Snowden leaking the activities of the NSA, nothing seems to be private and secured online. With eavesdroppers and surveillance agencies around the corner and your ISP in between, online data is never safe from falling prey to them. Browsing logs and online activity which is not usually encrypted can be easily tapped by someone who has a basic understanding of how the internet works. Hiding your real location on the web also calls upon itself when accessing a website that is restricted under your local government laws. To get away from all these imposing on the way you access internet, you will need a powerful workaround.
Why choose VPN and HideIPVPN?
To conceal your online identity, activities and your real location; you would need a VPN. A Virtual Private Network (VPN) , acts as an intermediate server between you and the requested webpage. It encrypts your data and routes it through its own dedicated servers, located at different parts of the world. These encryptions make it hard to trace back to the owner of the online data from the VPN servers. Also, using such a service will help you spoof your IP address, helping you access geo-restricted websites.
HideIPVPN is one such service provider for your VPN server requirements. With a one-click dedicated tool and support for multiple devices, including mobile phones, HideIPVPN is one of the most widely used VPN service, offered at a competitive pricing. We will be looking further into the network and what makes it well placed to be your VPN server.
Installation and Setup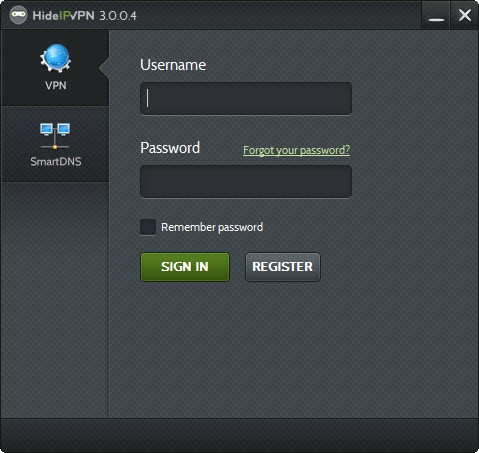 I haven't actually seen something so straightforward and in plain sight since a long time. HideIPVPN has one of the simplest setup processes as far as VPN servers are concerned. With support for one-click connections, all you would need is to download their dedicated tool for Windows and Mac OS X, depending on your operating system. The download comes in at 2.5MB and you will need to register first to download the same.
Once installed, you will need to login with your credentials for setting up the VPN server. Choose among the different VPN encryption protocols – PPTP, SSTP, OpenVPN and L2TP, the location of your VPN server and hit 'Connect'.
The pricing and plans are listed below, but you can have an instant free access with a 24 hours trial version.
HideIPVPN features
Application Killer
The application killer of HideIPVPN lets users to automatically close selected applications in the event of accidental disconnection to VPN server.
Access on up to 3 devices simultaneously on a single account
You can now access your VPN server on three devices simultaneously operating on a single VPN subscription. Apart from that, HideIPVPN also has support for multiple mobile devices including Android and iOS.
Access Geo-restricted websites
Now you can access networks like Netflix, Hulu, Sky Go, ESPN, and so forth; irrespective of the location you are based from.
Hide your IP Address
You can instantly hide your IP address once you hit 'connect'. Now you can spoof your IP address to one of the IP addresses of your VPN servers.
Usage logs not kept
The connection logs are only kept for 3 days, which are needed for troubleshooting purposes. Apart from that, your online data is completely secure with HideIPVPN.
Free SmartDNS
For premium subscribers, HideIPVPN offers free SmartDNS service for easy unblock of location based networks.
Unlimited Bandwidth
According to HideIPVPN's claims, its premium subscription offers unlimited and unmetered bandwidth.
Pricing
HideIPVPN is one of the VPN service providers with low pricing and great service. Their users can choose their VPN server among different locations. The pricing varies as you choose your server locations. The pricing for the VPN server – US or UK is $5.99 per month. For an all-inclusive US/UK/DE/NL server, it is priced at $9.99 per month.
For frequent torrent downloading users, the Germany and Netherlands servers are recommended, as they are prohibited on US/UK VPN servers.
Conclusion – A reliable VPN service
With live chat, Email support, customer forum and 30 day money-back guarantee, HideIPVPN is quite popular among its loyal customers. Relatively higher speed, lower costs and ease of setup well place HideIPVPN among the best VPN service providers.
Our Rating – 4.7 Out of 5