Despite feeling 'Okay' during early times, managing various projects and their sub-tasks can become a quite tiresome task as you move on. The case of an individual being so tough, project management will be the toughest job on earth when it comes to managing projects of an entire company — well, welcome, Project Managers! Having it said, it has to be noted that one of the reasons for the tiresome behaviour of this job is the absence of use of proper technology that is available in industry. Instead, use of traditional ways can, more often than not, makes things worse! However, we are here with a review of one of the best solutions you should consider when you think of implementing a tech-based project management solution — Comindware Project. Here, in this article, we shall explore noteworthy parts of the software so that you can have least number of doubts about Comindware Project, its implementation and the main effects it can create in your business. So, we start our review with an inevitable introduction to the tool we do have before us, shall we?
Comindware Project — the Companion for Project Managers
So, we repeat, Comindware Project is a simple project management software that can suit different environments & requirements! Using this easy-to-use tool for computers, you will be able to not only have an overview of projects & tasks but also make sure that all those projects are keeping their progress without any interruption. In simple words, you can create, collaborate and execute your projects in a way that your firm grabs optimum results in the end. Now we will move on to other sectors of Comindware Project that make sense as a task management solution.
Your Requirement, Your Comindware Project
People at Comindware Project understand that every user has a different requirement, and they have come up with dedicated solutions for different purposes. For instance, if you are a Project Manager who is looking for an optimum solution to keep track of different projects that the company has for the time being, by bringing all these data in one easily understandable and accessible form, Comindware Project has a dedicated section named Comindware Project software for Project Managers out there. This type of Comindware Project solutions is available for variety of needs such as marketing teams, teams, professional services and online education. Each dedicated solution has its some or other exclusive features. For instance, when considering the case of Online Education, we can see that some features like centralization of online course development informationare up to the mark. Altogether, dedicated behaviour of Comindware Project is something great, indeed.
Comindware Team Network — Collaboration made Easy
Regardless size of your company and number of employees it does have, it is an essential task to ensure that internal communication is right there in your company. Comindware Team Network is a powerful solution to do that because the platform has almost every feature to become the must-have platform for every company. For instance, you can set up a discussion room, where you can give suggestions and comments on a particular work that is assigned to one employee. On the other hand if you are planning to launch a superb product in a power-packed event, you'll be able to create a public discussion room to bring different employees from different departments to have suggestions on that launch event. In addition, there is also an Organization Chart that helps you have contact details of employees of your company from single screen, whereas the Award System of Comindware Team Network helps you give certain awards to employees and then motivate them — motivation is good, isn't it?
Features we Loved
Comindware Project is available through two methods — Cloud and On-Premise. As the names say, the first one depends upon cloud computing servers to store your data whereas the latter needs your infrastructure to set up the system. Obviously, both are two-faced coins and you can give optimum priority to your own requirement.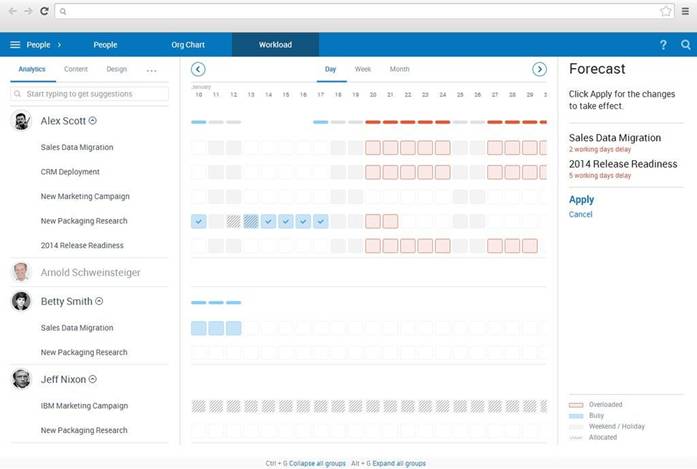 Smartphone Apps are available from Comindware Project and these apps can be used to keep track of tasks and projects in your firm even when you are away — you just need an internet connection.
Throughout the software, Comindware has used an ultra-simple UI that is easy to understand.
Our Verdict
We are impressed — particularly while considering its top-notch features. By the way, what is your opinion about this project manager software? We are eager to know.