Direct part fabrication is something you may find part of 3D printing or additive manufacturing. Manufacturing the product in a range of material may not be much easy. That is because the traditional methods of production are not capable of handling the range of materials. This is exactly what Rapid Tooling would be beneficial in.
What is Rapid Tooling?
Rapid Tooling is a perfect amalgamation of the rapid prototyping technologies combined with the conventional tooling options like casting and molding. In fact, they offer you a lower cost options and the technique finds a better application in prototype injection molding.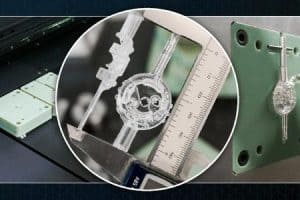 The technique is widely used for primarily the injection molded products. The technology is implemented either by using rapid prototyping as a style of pattern or can also be used as a manufacturing process directly. In fact, Rapid Tooling is the best alternative that can be put to a good use and help you reduce the cost of tooling.
Some of the most popular rapid tooling techniques normally used would include selective laser melting (SLM), Laser Engineered Net Shaping, Direct Metal Deposition.
Some of the excellent advantages of opting for rapid tooling can be summed up as here below. We will be listing the most common advantages.
Rapid tooling ensures that the tooling time is drastically reduced. You will spend lesser time than a conventional tool.

Even the Tooling cost is considerably reduced.

You can bring the products faster than the expected time that has been planned. In fact, if you have scheduled a date for your product launch, rapid tooling can help you launch your product earlier than it was planned for.

You can produce multiple products with a wider range of materials. This versatility is what would make the production interesting and practically more useful

Rapid tooling in conjunction with prototyping will ensure that you can price your products in a rather competitive manner. Since you can indulge in mass production of your products with the injection tools, you stand to gain an upper hand in saving enough in terms of costs incurred in manufacturing them. You can definitely pass on this saving to your customers by reducing the prices.
With the other alternate methods needing much time and resources, rapid tooling can be an excellent option for economical manufacturing and prototyping.  
Some other advantages of using rapid Tooling would include its capability to produce the products that have been planned in small quantities. In fact, one of the areas that the rapid tooling can be beneficial can be the prototyping.
In Conclusion
Rapid Tooling can be one of the excellent options that you can nut to good use if you are looking to troubleshoot the existing products. Since the tooling is made with the help of the additive process, it saves a lot in terms of money and material.
In essence, rapid tooling offers you an excellent option as part of customization for personal application and prototyping options. The technique indeed goes a long way in promoting prototyping and injection molding.