Families have access to an amazing array of home entertainment options, which include specialty streaming, cable, gaming, and music services. The digital era gives us access to a wide variety of niche entertainments, and that allows family members to explore a diverse range of media all at once.
However, making use of them can add up to a major expense, especially if members of the household are ordering channels, on-demand entertainment, and subscriptions without coordinating.
Here are a few home entertainment considerations your family should look at together, before you invest in hardware and subscription services.
Cable bundles
It can be very difficult to come to a consensus while you're selecting a cable subscription plan. Many providers do not offer channels individually. Instead, they require users to subscribe to bundles, which group similar premium channels together for a monthly fee.
This can get quite expensive if your family has a diverse range of tastes. If you want to be able to view niche indie films, sports, and music channels, you might wind up with three additional bundles that can significantly raise your cable bill.
Before your family subscribes to a particular cable service, make sure it will meet all your entertainment needs but stays within your household budget.
Streaming services
Many families are turning to streaming online entertainment as an alternative to cable channels. Services like Netflix, Hulu, and Crunchyroll give grownups and teens unlimited access to a wide variety of TV shows and movies.
Some of this media is exclusive to the distributor, for example Netflix original programs such as House of Cards and Orange is the New Black. Services like Hulu generally give viewers access to the newest episodes within a series, but not archived episodes.
Some services, like Crunchyroll, are dedicated to serving a particular audience; in this case, anime fans. This doesn't include the vast array of music streaming services such as Spotify and Pandora.
Your family will have to settle on a few accounts to meet your entertainment needs.
Peripherals
It's amazing how much surround sound speakers can transform the viewing experience. You can immerse yourself in the action by hearing the score and sound effects from every direction.
Talk with your family about the types of accessories everyone would like to attach to your home entertainment system. The options are endless: You can dedicate your budget to Blu-ray players, digital media players like Google Chromecast, speakers, and a range of other hardwares.
Gaming consoles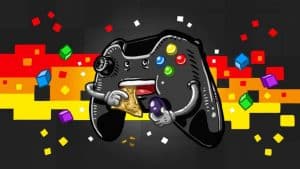 No home entertainment system is complete without a gaming console. Have a family discussion and weigh the pros and cons of consoles that are currently on the market.
Do you want to encourage your family members to stand up and get active? Then you might want to opt for a Wii U, with its collection of dance and sports games.
Would you prefer to manage a variety of entertainment media from a single hub? Then start exploring the PlayStation4 and Xbox One. Try to find the console that fits your household needs the best.
Setting up a home entertainment system requires a high level of deliberation and participation from the members of your household. You can reduce your overall entertainment expenditures by tailoring your cable subscription, gaming console, accessories, and streaming services to everyone's needs.